Dry Coolers
Dry Coolers have been designed for use with glycol water and other coolants, and they can also be used in combination with chillers.
Dry Coolers replace the cooling towers, requiring very little maintenance.
They eliminate the risk of bacterial contamination caused by Legionella in the air or water, inside the air-conditioning systems.
The wide range of dry cooler condensers features 433 models, providing cooling capacities ranging from 10 kW to 875 kW.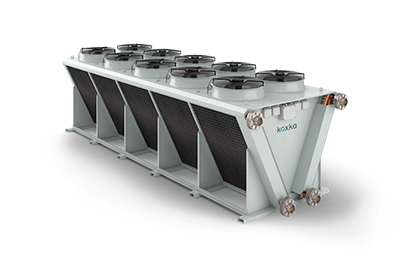 These models have been designed for their use with glycol water and other types of coolants. They can be used in combination with chillers. This range features 90 models, with capacities ranging from 100 to 844 kW.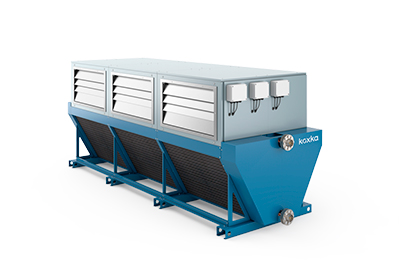 This new range of Radial Dry Coolers features 27 models, which have been designed for commercial cooling applications, with capacities that range from 47 Kw to 265 Kw. There is a wide variety of models, adapting to the cooling needs of each installation. Models are factory equipped with EC fans.
Koxka's Axial Dry Coolers have very low noise levels and consume very little energy. There are 244 models available for different types of cooling applications.