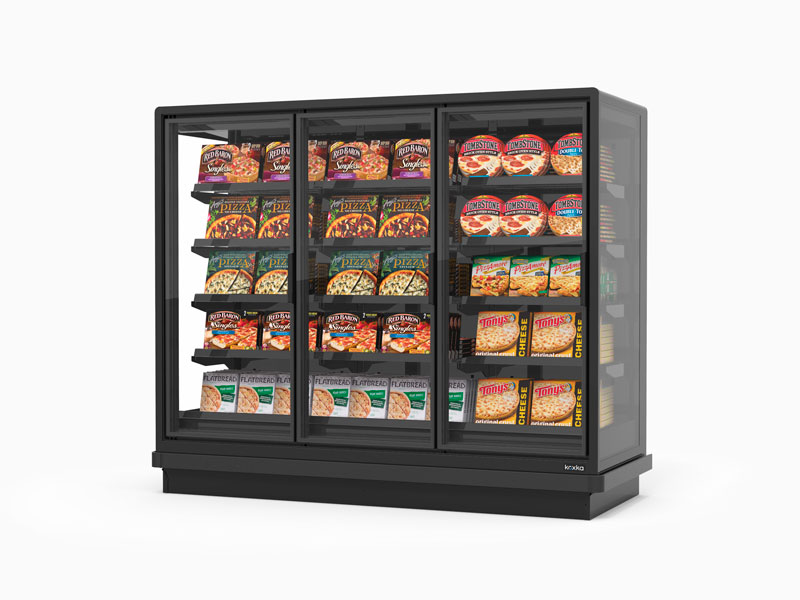 Ranges of vertical closed freezer cabinets that can achieve the perfect preservation of the product and optimize the space inside the store.
Available in 2 heights, 2 widths and 4 modulations.
Technology with evaporator on the vat.
Option available with high-efficiency doors
Classification of the reference model according to Regulation (EU) 2019/2018 on Ecodesign. Consult EPREL database for different configurations.
Full glass door cabinet with outstanding storage capacity
Designed for the efficient storage and display of frozen products
Highest possible visibility for the frozen products displayed with minimum store space occupied
Automatic spring-close triple-glass doors
Minimum energy consumption
Maximum uniformity of temperature
Models with lower evaporator
High efficiency doors available in order to reduce energy consumption and enhance product visibility
LED lighting available
Display area
600 mm wire shelves (DN206, DN208)
400 mm wire shelves (DN006, DN008)
Baskets
Fan guard
Ticket Strip
Front grid
Kickplate fan
Wire dividers for bin and shelves
Aesthetics
More than 50 colours for exterior and interior
case customization
Bumpers available in 6 different colours (including a transparent one) with 15 different insert colours
Different colours and sizes for ticket strip
Stainless steel double tube bumper
Temperature control
Electronic control
Communication card
Energy efficiency and savings
High efficiency doors
High efficiency fans
Electronics and thermostatics valves
LED lighting
Hot gas defrost
Flexible installation
Solid or Glazed end panels
Fixed perspex divider
CO2 (R744) as refrigerant
Ethylene Glycol / Water mixture as refrigerant
Cover for upper piping